10 Common Trade Show Myths
10 Common Myths about Trade Shows
1. Trade Show Marketing is Marketing.
Yes . . . and no. If you are a skilled marketer, you will grasp the nuances of trade show marketing, but it will take time. Most marketing managers gravitate to their strengths by focusing on the structure, the graphics, or the show promotion and planning. Intellectually, they know these are interconnected, but they may not know how to maximize their results.
Work with professionals, whether it's a graphic designer, an exhibit consultant, or a certified trade show manager. Trade show exhibit marketing is a craft learned the hard way through trial and error. It's easy to burn through a lot of money before you figure out what works and what doesn't. Don't stumble through a year or two of mistakes when exhibit experts can save you time, money, and embarrassment.
2. Trade Show Labor is Hostile, Incompetent, and Expensive.
No one will dispute that trade show I&D can be expensive, particularly in certain well-known venues. However, most I&D contractors are very competent. They can solve almost any last minute trade show display crisis. You may disagree with the show hall rules regarding labor regulations, but the actual laborers in your booth didn't write them. If you disagree with the rules, don't take it out on the guy or gal assembling your display. Contact your I&D labor provider or show management.
You have the power to control your labor costs, beginning with exhibit design. Consider assembly and packaging during the design phase. Are the components labeled, can it be packed without relying on a 20 page manual, and are the packaging materials reusable?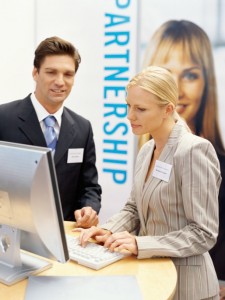 3. Anyone Can Staff a Booth.
Too often, companies send the wrong folks to work the trade show booth. Even worse, they don't train them. Not everyone has the temperament, the knowledge, or the discipline for a trade show. Here's my rule: Find those employees with previous retail sales experience who love assisting customers with product or service solutions. It doesn't matter if they are in Sales, Marketing, Engineering, or Production. What matters is their attitude and their knowledge.
Want to know who not to send? "Joe." Every company has a "Joe." He drinks too much, he gambles too much, and he wanders around too much. About a half a dozen times a day, you'll wonder what happened to Joe. Five minutes ago he was sucking down his third espresso, leaning on the counter, and ogling anything with two X chromosomes. Suddenly he's gone . . . ONCE AGAIN!
4. Trade Shows are One Big Party.
For some companies, that is true. They wine and dine customers to excess, party until daylight, and don't attend any show sponsored events. Inevitably, those are the same companies that grumble about their trade show ROI. They spent "X" but can only measure "Y" sales from the show. When you ask them about their pre-show promotions, their lead qualification, their client meetings at the show, and their follow up with prospective customers, you get a big "Duh?" They didn't plan their trade show marketing program, and now it's suddenly the show's fault.
5. Trade Shows are a Waste of Time.
If you love sitting in a cubicle all day creating spreadsheets, then yes, a trade show is a waste of time. You fly to desirable locations like Las Vegas, San Francisco, Orlando, New York, New Orleans, or Chicago. You have to meet people, listen to their needs, talk about your company, stand on your feet, and generally be helpful, pleasant, and knowledgeable. Even worse, you may have to join clients for breakfast, socialize with them after show hours, mingle with potential suppliers, and attend educational seminars about your industry. That's really tough You either embrace the opportunity to build sales and learn something new, or you grumble about the airport, the food, the hotel, and the hassle of time away from the office. It's all about your attitude.
6. Trade Show Displays are Expensive (Part 1).
Very true, but so is almost any investment in capital equipment or advertising. Let's explore this from another perspective. Let's say your company purchased an $18,000 inline display (10 x 20). Then, let's assume your company participates in four trade shows a year and you expect the booth to last five years. Now, take the average cost per show including show space, literature, airfare, hotels, meals, entertainment, transportation, and labor. If you are frugal, you'll spend:
$25,000 per show
Multiply that by 20 shows (4 shows x 5 years) = $500,000
Then divide the booth cost $18,000 by the $500,000 in expenses
= 4.3% which is the display cost to total expenses
Let's take it to the next step. Your company takes trade show marketing seriously (and you should). You conduct pre-show promotions, you send the right folks to the show, and you aggressively follow up on all leads. You expect the show to generate sales (or you wouldn't be participating). On average, you demand $150,000 in new sales from each show. $150,000 x 20 shows = $3,000,000 in sales. Based on those numbers:
$500,000/$3,000,000 = 16% return on show expenses
$18,000/$3,000,000 = 0.6% display cost to sales
I don't know about you, but those numbers look pretty good to me. And unlike magazine, television, or direct mail advertising, they're measurable if you put the right metrics in place.
7. Trade Show Displays are Expensive (Part 2).
Probably 60 percent of all trade show displays never go to large, industry shows in Las Vegas, Orlando, or Chicago. The owners take them to Chamber of Commerce mixers, local business shows, corporate events, regional industry shows, and hiring and recruitment fairs. At these shows, you won't see island exhibits, but you will see pop ups, table tops, banner stands, and lightweight hybrids. These displays range in price from under $200 for a basic banner stand with graphics to $8000 for an upscale portable hybrid. Considering the cost of most advertising, buying a trade show display is a bargain that you'll use for years.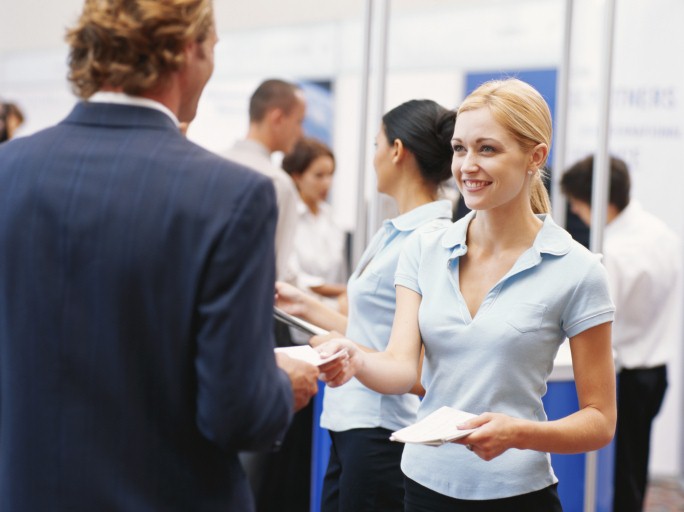 8. All Shows are the Same.
Really? If your experience has been that "all shows are the same," you may be approaching every show EXACTLY the SAME. Not every show has the same audience. There may be similarities, but the attendees vary even in shows focusing on the same industry. If you are serious about trade show marketing, then contact show management and request attendee and exhibitor data. Have them describe the goals, mission, and audience of the show. Then go to the next step, ask for exhibitors who have been loyal to that trade show for many years. Assuming they are not competitors, contact the Marketing Manager or Trade Show Coordinator. Ask them why they attend, how they tailor their message to the audience, and how that message differs from other shows. And then do what professional marketers do . . . create a message, design appropriate graphics, and plan a pre-show, show, and post-show campaign.
9. Trade Show Leads are a Waste of Time.
Leads can be a waste of time if: a) You collect business cards in a fishbowl for a cool product giveaway like an iPad, b) You don't qualify the attendees who visit your booth (or jot down their needs), and c) You don't contact them until a month or two after the show.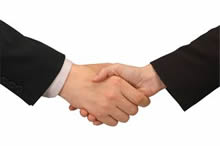 More than anything else you do at a trade show, your lead quality is a byproduct of your pre-show planning, booth staff training and timely post-show follow-up. There is a direct correlation. A trade show is a salesperson's nirvana, namely a captive audience that spent money to see you. Now, you may get lucky and acquire a game-changing customer while sipping coffee, clipping your fingernails, and chatting with co-workers. But that's rare. Finding good customers takes time, enthusiasm, knowledge, and patience. You have to be at your best because they can (and will) walk down the aisle and find another solution.
10. Virtual Trade Shows will Replace Real Trade Shows.
There is a place for virtual trade shows just as there is a place for dating websites. But at some point, you have to meet in person. And unless you're looking for a mail order bride (or groom), you're not going to get any action unless you shake hands, look one another in the eye, and share your story face-to-face.
Contact Us
For more information about trade show or event marketing, give us a call or Contact Us. We welcome the opportunity to assist you with your next event.
Article Author:

Mel White, CEI

Add designs and photos to your personal gallery simply by clicking on the +My Gallery links
Then email your "My Gallery" to colleagues, friends, or your favorite exhibit designer. There's no better way to begin designing a display that reflects your exhibit marketing goals.
Note: My Gallery uses a temporary browser cookie to store your gallery. We recommend that you send your gallery to your email address if you need to retain it for longer than 30 days.
Suggested lead times may vary depending on current orders. Please check with Customer Service.
Production lead times are based on business days and DO NOT include any shipping days.
Production-ready artwork (when applicable) must accompany the order confirmation. Delays in uploading artwork may lead to expedited charges or shipping changes.
No order will be released to Production without a signed order confirmation.
Shipping is based on the availability of materials and graphics. Additional charges may apply if materials or graphics must be expedited.
Standard lead times do not apply to orders of multiple quantities.
Exhibit Weight
varies depending on the packaging and the shipping method. Variables include but are not limited to:
Dimensional Weight vs. Actual Weight: Dimensional weight is defined as crate or case size. On most air shipments, the dimensional weight exceeds the actual weight
Portable Cases vs. Wood Crates or Molded Tubs (where applicable): Exhibit designs that require one wood crate would require multiple portable cases. Selecting one vs. the other affects the total weight (dimensional or actual).
Freight Carrier: LTL carriers (Less than Truckload) quote freight based on space used. UPS, FedEx, and air freight carriers quote freight based on either the dimensional or the actual weight of the shipment.
Freight Service Level (number of days): Service levels range from Same Day Delivery to Two Week Delivery.
For more information about exhibit weights and freight options, please contact your local exhibit representative.
Electrical, Cord, and Wire Management
varies depending on the display and each exhibitor's requirements. When ordering your trade show display, consider the following electrical/wire management issues and discuss your options with an exhibit professional:
Inline vs. Island Displays
Lead Retrieval Devices
Computer and Monitor Cables
Demo Equipment
Overhead Lighting
Grommets and Grommet Placement in Counters
Overhead vs. Floor Power Supply
Flooring and Electrical Wiring
Options for Hiding Cords and Cables
Flat vs. Round Electrical Cords
Multi-Plug Outlets and Extension Cords
By reviewing your wiring options
BEFORE
you order your display, you'll save
TIME
and
MONEY
and ensure your exhibit exceeds your expectations and your installation is trouble-free.